Home

Meditations & Events Schedule

Teaching Schedule

Essays & Articles

Dharma Talks

Sangha Reflections

Dharma Books

Become
a Supporter

About MTSource

Contact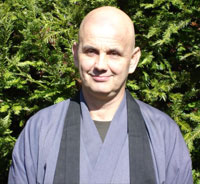 Shinko Rick Slone

Biographies: Shinko Rick Slone, teacher and priest, California Street in San Francisco


SHINKO RICK SLONE has been in residence at Zen Center since 1993. He was ordained as a priest in Suzuki Roshi's lineage by then Abbot of Zen Center Zoketsu Norman Fischer in 1997, and was Shuso (head monk) at Tassajara Zen Mountain center in 2001. In addition to his Zen training, he has been an intern with the Franciscan Workers of Junipero Serra, a lay Franciscan community that serves the homeless and disadvantaged in Salinas, California. He continues to believe that interfaith dialogue and relationship is important for religious organizations for them to be vital agents of peace and reconciliation in our difficult times. Rick now works in the guest program at Green Gulch Farm, where he lives with his wife Iva and 7-year-old son Jacob.