Home

Meditations & Events Schedule

Teaching Schedule

Essays & Articles

Dharma Talks

Sangha Reflections

Dharma Books

Become
a Supporter

About MTSource

Contact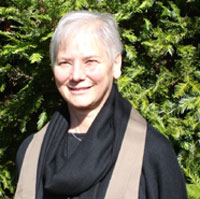 Kiku Christina Lehnherr

Biographies: Kiku Christina Lehnherr, teacher and priest, San Rafael group


Kiku Christina Lehnherr, a former physical therapist and psychologist from Switzerland, began her Zen practice there in 1976. She moved to San Francisco Zen Center in 1988 and was ordained as a priest in 1993. In 2005 she received Dharma Transmission from Tenshin Reb Anderson. During the years at Zen Center she also became a sewing teacher for Buddha's robes. She is now living in Mill Valley where she continues to practice and teach the Dharma.